Snorkeling is a great water sport, all you need is a mask and snorkel and you are ready for a new adventure. Our planets comprise of 30% land and 70% water bodies in which millions of species exist. It doesn't matter whether you are a novice or an experienced snorkeler, you should try snorkeling and witness the underwater marine life.  
There are a lot of many beautiful places where you can experience snorkeling. In this blog, I will tell you about some different places where you can try snorkeling and can experience the beauty of this marine life.
Also see: Best Places to Snorkel in India
Best Places To Snorkel in the World
1. Great Barrier Reef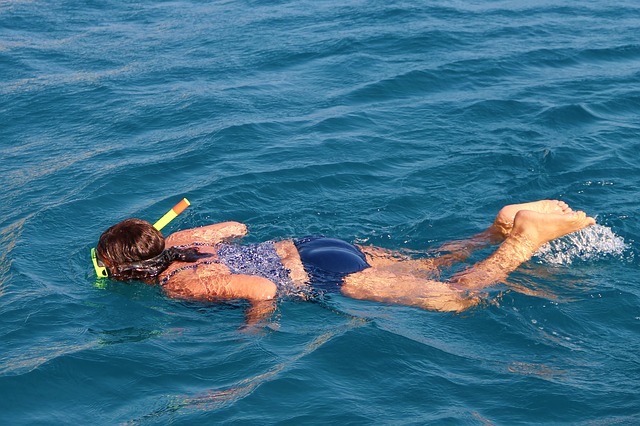 It is made up of more than 2900 coral reefs and coral cays which stretch up to 1400 miles of the Queensland coastline. This water body is the home for more than a thousand species of fishes and six species of the sea turtle. It is considered as the largest reef system on the earth.
Unfortunately, Due to global warming, the water is getting warm leading to coral bleaching. The scientists have predicted that this barrier reef will get extinct before or around 2050. So, visit this place before it is too late.
Location – Australia
2. Devil's Crown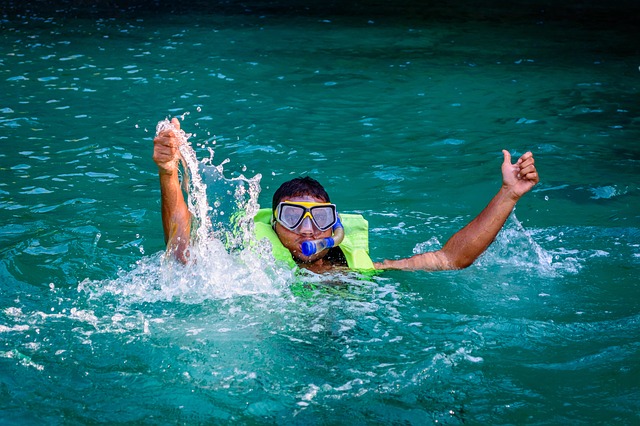 It is situated near the Floreana Island; Devil's crown is a part of an extinct and sunken volcano. Different species of fishes, eagle and shy reef sharks can be found here. Here currents are very strong so make sure you are going with an experienced snorkeler. In case you want to see some hammerhead sharks then just step out from this crown, hammerhead sharks will be waiting for you.
On a serious note, if you are not an experienced diver or snorkeler then either go in a group or take an experienced snorkeler with a sound knowledge of this water body. Take all the preventive measures.
Location – Galapagos
3. Komodo National Park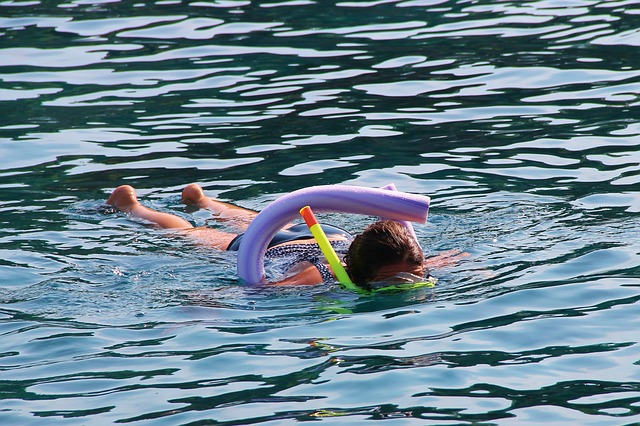 It is a chain of the volcanic island which is extending eastwards from the Java. It is the home of a giant lizard named as Komodo dragon. This island is designated as a UNESCO world heritage site. It is enjoying the protected status since 1986 and hence the coral reefs are thriving with an exotic marine life which includes manta rays, sharks and over 1000 species of fishes.
Location – Indonesia
4. Bay of Donsol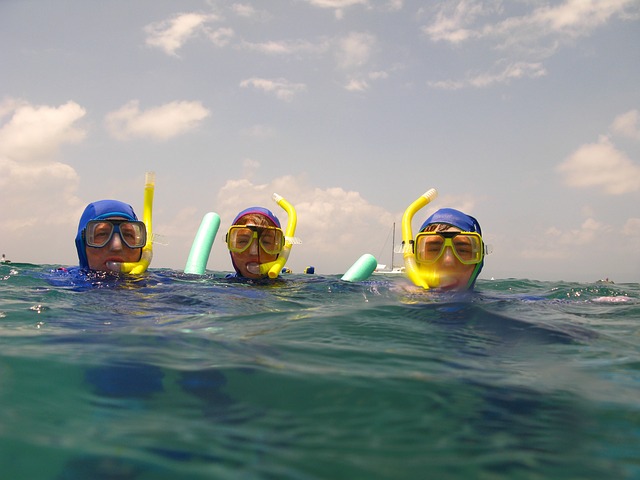 This place has very diverse biodiversity and finding a suitable place for snorkeling is quite difficult. It is the home for whale shark and can be seen in the Month of November and June. Bay of Donsol has very fine and clear water which makes it a good place for coral reefs.
Location – The Philippines
5. Bazaruto Archipelago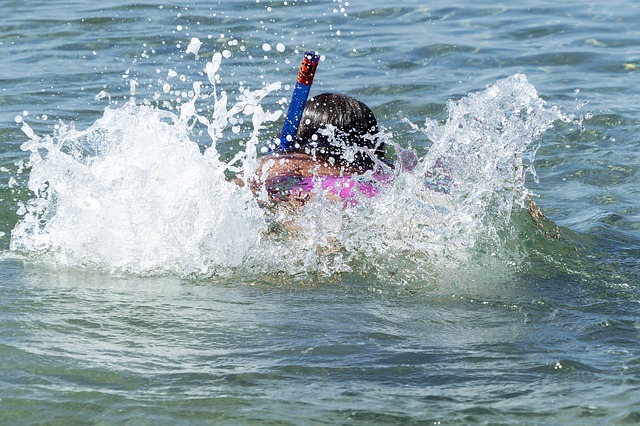 Well! this place is very hard to reach but worth the effort. It is situated 22 miles from the east coast of Africa and hosts a Plethora of diving and snorkeling experiences. This area was declared as National Park in 1971.
If you are a serious traveler then this place is for you, the journey is full of adventure and the destination is mesmerizing.
Location – Mozambique
6. Maui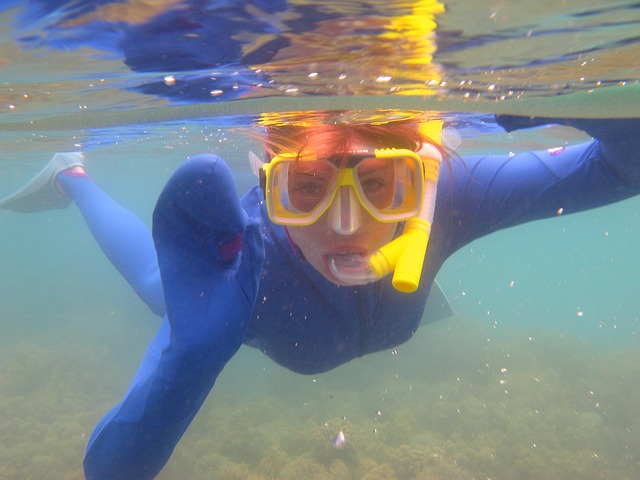 This place can be one of the best visits of your traveling life. All thanks to its Lush beauty which is full of biodiversity and rich ecosystem. You can visit some popular coral reefs where you can see sea turtles, Technicolor fish, and coral formations. Few miles away there is Ahihi Kinau Natural reserve where you can learn some basics of snorkeling. The half-sunken crescent-shaped caldera which is known as the Molokini Crater is a place to meet Eagle rays, Rainbowfish, Monk seals and sea turtles.
Location – Hawaii, United States of America
7. Bora Bora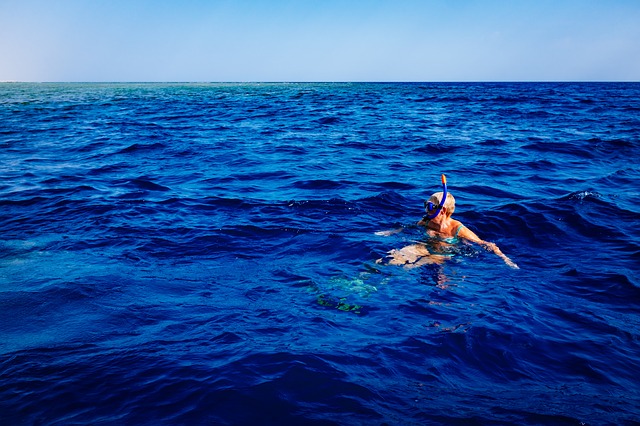 The water of this place is ACTUALLY crystal clear. Here you can meet up stingrays which are also known as "water – puppies" and have a soft corner for humans. Apart from the stingray, this place is a home for reef fish, blacktip reef and lemon sharks. It is a fact that these stingrays do not attack but still, you have to be careful with them Make sure not to swim directly over them or step on their tails.
Location – French Polynesia
8. Silver Bank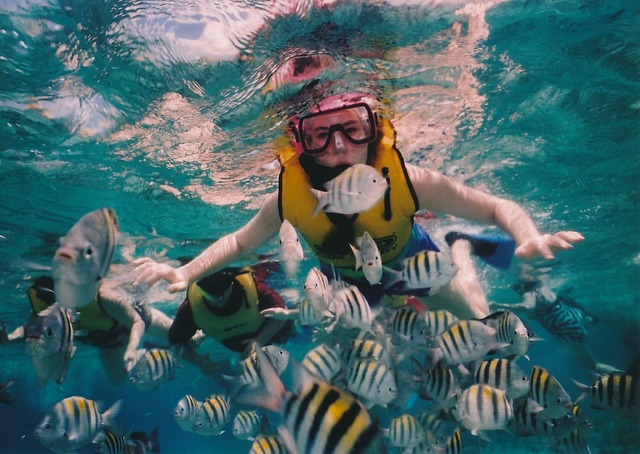 The best time to visit this place is any month between December and April as at this period the water is warm. This warm and shallow water is suitable for mating of the Humpback whales. At this particular point of time these whales mate, calve and raise their young ones. This marine mammal sanctuary is one of the three places on the globe which allows the visitors to swim along with these gigantic Humpback whales. So, if you ever had a dream to swim with these big mammals then it can be fulfilled here.
Location – Dominican Republic
9. Isla del Cocos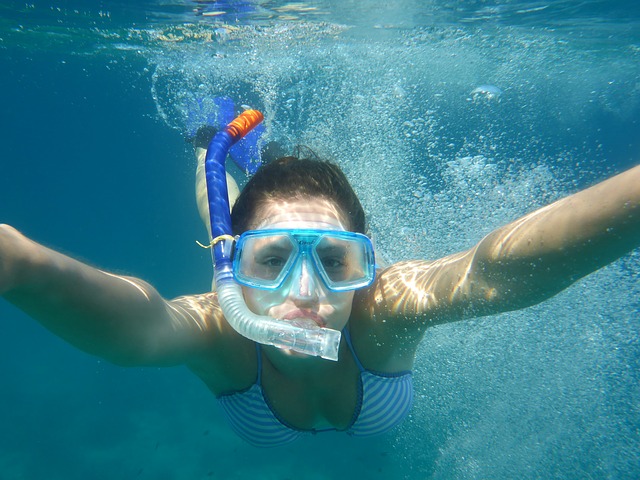 This place is also known as the Treasure Island as in ancient times this place was the hideout for the pirates. Isla del Cocos national park is designated as UNESCO World Heritage site. It is situated at on an ancient volcanic mountain and hosts amazing marine life and thrive beautiful coral reefs. It is considered as one of the best places for snorkeling and to swim with fish like bottlenose dolphins, whale shark, moray eels and manta rays.
Location – Costa Rica
10. St. Kitts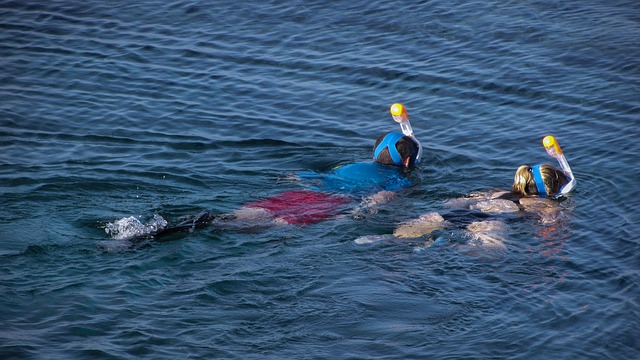 This island is known for its beautiful beaches and tropical forests. You can find many ship wreckages underwater which makes it an interesting place for snorkeling and diving. These ship wreckages are the home for some beautiful fish species and coral reefs. Recently wreckage of a ship which is 18th century old and belongs to Great Britain was also found there.
Location – The Caribbean
11. Grenada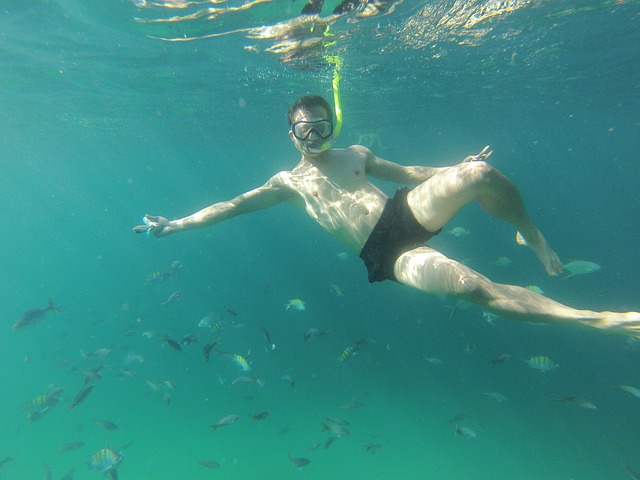 In Grenada, there is the world's first-ever marine sculpture garden known as Molinere Sculpture Park. This island is famous for its spices, beautiful mountains and cliffs towards the beautiful oceanic waters. These corals graced cement structures which also includes the famous ring of children holding hands will give you a whole new rare experience.
Location – The Caribbean
12. Baa Atoll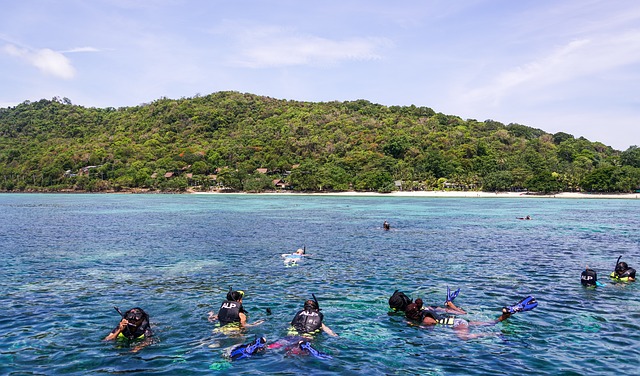 It is located in the Indian Ocean and famous for its coral reefs. These coral islands are surrounded by aquamarine waters and are home for various different species of fish and turtles. Baa Atoll is designated as the UNESCO biosphere reserve. From June to November, Lot many manta rays gather around in this Atoll in order to hunt the trapped Zooplanktons. This beautiful oceanic ecosystem is as beautiful as the land and makes this place perfect for snorkeling and diving.
So these were 12 different places where you can experience the joy of snorkeling. Snorkeling is indeed a great adventure sport in water but it also requires some safety skills as well. If you are new to this sport then make sure to take some experienced person.
---