Statue of Unity is a memorial to Sardar Vallabhbhai Patel, first Deputy Prime Minister and Home minister of India. Sardar Vallabhbhai Patel is also known as the Iron Man of India. It was inaugurate on 31 October 2018, 143rd birth anniversary of Sardar Patel. In a very short span of time, this place has become one of the popular tourist attractions in India.
Statue of Unity is located in Gujrat at the banks of River Narmada. It has has been constructed on a river island named Sadhu Bet that is 3.2 km away from Narmada Dam downstream. The Statue is a 182 metres tall statue and is also the Tallest statue in the World. The statue and the surrounding area occupy more than 2 hectares. The statue is surrounded by a 12 km long artificial lake.
The statue of Unity is divided into five zones of which only three are open to the public. Zone 1 has memorial garden and a museum. The second zone reaches up to Patel's thighs. The third zone is up to the viewing gallery at 153 metres. Zone 4 is the maintenance area. The fifth zone reaches to the head where you cannot go.
The viewing gallery or observation deck (area of 4,647 square metres) can accommodate up to 200 visitors at a time. It also offers an expansive view of the dam and the surrounding ranges of Satpuda and Vindhyachal.
The Statue of Unity also offers education to visitors. There is a museum at the base (Zone 1) of the statue with modern audio-visual systems to teach about the life and work of Sardar Vallabhbhai Patel. So, visitors can learn about Sardar's contribution to the India.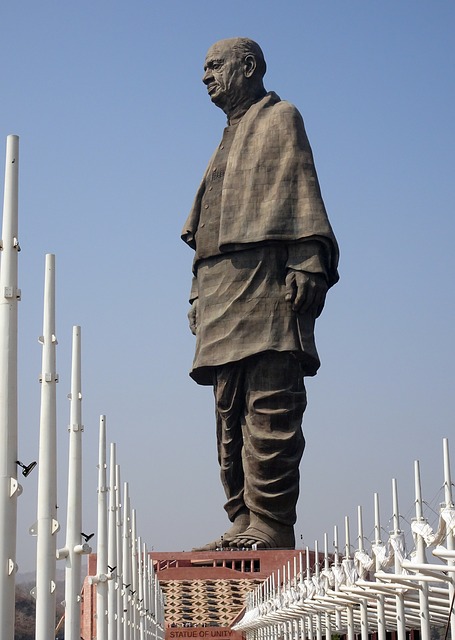 Visitor Hours
The Statue of Unity opens at 8:00 AM and closes at 6:00 PM from Tuesday to Sunday. It remains closed on Monday
The Laser Light and Sound Show starts at 7:30 PM.
| | |
| --- | --- |
| Opening Days | Tuesday through Sunday |
| Opening Hours | 9 am to 5 pm |
Statue of Unity ticket price
| Visitor Type | Entry Ticket | Observation Deckview |
| --- | --- | --- |
| Adult | INR 120 + INR 30 (Bus Charges) | INR 350 + INR 30 (Bus Charges) |
| Children (aged 3 to 15 years) | INR 60 + INR 30 (Bus Charges) | INR 200 + INR 30 (Bus Charges) |
| Children (below 3 years) | Free | Free |
You can book tickets from official website by selecting your preferred time and day. You can also buy tickets at the site.
it is important to note that there is a Quota of 7000 Tickets per day for the Viewing Gallery. If the quota of the day is exhausted, you need can only get Entry Tickets. If you do not want to miss the Viewing Gallery, it is better to make advance booking online from the website.
Locker facility is also available at Shrestha Bharat Bhavan Ticketing Counter but you can only keep small bags there. You need to keep your large bags in youw own vehicle.
Activities at the Statue of Unity
Exhibition Hall/ Museum and Wall of Unity
Laser Light and Sound Show
Valley of flowers
Boating
Helicopter Ride
Bird Watching
Trekking in Zarvani Eco-Tourism Area
A few things you should know about Statue of Unity.
With the height of 182 meters, it is the tallest statue in the world.
The Statue of Unity was built in just 46 months.
The statue has been designed as an earthquake resistant structure.
It is twice the size of the Statue of Liberty and 40% taller than Spring Temple Buddha.
The statue was built by over 250 engineers and 3,400 labourers.
It costed nearly Rs. 3000 crore.
The base of the Statue was made with over 129 tonnes of scrap iron donated by 100 million farmers from across India.
There is a separate selfie zone for the lovers of social media.
How to reach the Statue of Unity
Statue of Unity is easily accessible. Nearest Airport is Vadodara International Airport and nearest railway station is Vadodara Railway Station.
It is located at a distance of 90 KM from Vadodara. It takes around 2 hours from Reach to the Statue of Unity by car. You can either drive to the place of hire a taxi. You can also get government buses operated by Gujarat State Road Transport Corporation, Visit the official website for Bus tickets.
The distance of Statue of Unity from Ahmedabad is 200 km and from Surat is 154 km.
The nearest town is Kevadia in the Narmada district. The Statue of Unity is only 3.5 kilometres from there.
Parking Facility
Parking facility is available. Parking for four-wheeler vehicles is chargeable, but parking for two-wheeler vehicles is free.
Hotels near Statue of Unity
The closest hotel is Shrestha Bharat Bhavan that is adjacent to the Statue of Unity. It is a 3-star hotel with all modern amenities, cafeteria, and conference facilities.
If you are interested in staying in Tent, you can consider the Narmada Tent City. It is around 10 km from Statue of Unity. This is resort with luxury tents. You can select from standard, deluxe and luxury tents. Food and beverage areas managed by a 5-star hotel.